Recruits Class of 2016
Isaiah Baker from Shipley School (PA)
6'8" Power Forward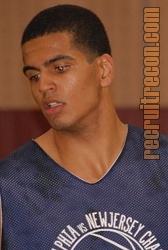 Basketball Recruiting - Isaiah Baker - Player Profiles - ESPN
Eric Green from St. Mark's High, Southborough, MA/Oakland CA
6'5" Guard/Forward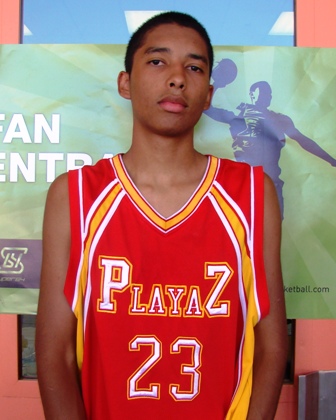 NERR - New England Basketball Recruiting Report
Eric Green, a 6-foot-5 guard/forward from St. Mark's High School, has committed to play basketball at Holy Cross, according to a report from Jeff Goodman of CBS Sports.

Holy Cross has landed 6-4 wing Eric Green out of St. Mark's - per source. Green can really defend. Solid local get for Milan Brown. (via Jeff Goodman on Twitter)

Green, class of 2012, has an overall record of 27-3 and a 16-0 league record during his time with the Lions. According to MaxPreps, Green's national ranking is No. 412 and his state ranking is No. 5.

http://boston.sbnation.com/
Excuse Me I'm Dunking - YouTube
Cullen Hamilton from Potomac School in VA
6'2" Guard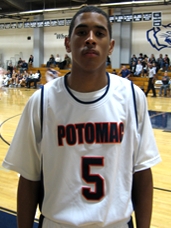 Potomac School guard Cullen Hamilton picks Holy Cross - Recruiting Insider - The Washington Post
Potomac School guard Cullen Hamilton picks Holy Cross
Cullen Hamilton
had low expectations as he boarded an airplane and flew north for a campus visit earlier this month. But after taking a tour of the Holy Cross campus and enjoying his trip to Worcester, Mass., the Potomac School guard knew where he wanted to play his college basketball.
On Sunday night, Hamlton phoned Crusaders Coach Milan Brown and accepted a scholarship offer to play for Holy Cross.
"In all honesty, I never really expected to take Holy Cross seriously, didn't expect much out of the visit," Hamilton said. "When I went up there, I didn't expect it to be so nice. … Up until this past Monday, I never really saw myself in purple and while.
"I was comfortable being away from home."
Hamilton picked the Crusaders over the Patriot League's local member, American University.
In recruiting Hamilton, Holy Cross's coaches stressed their considerable ties and their players' connections to the Washington area. The Crusaders' roster this season includes freshmen Justin Burrell from Potomac (Va.) High, Malcolm Miller from Gaithersburg and forward Taylor Abt from Georgetown Prep.
Hamilton, though, said that did not play a role in his decision. The 6-foot-3 senior, who averaged 22 points per game last season, simply liked how he felt on campus.
"He can really shoot the ball," Potomac School Coach Levi Franklin said. "The last couple years, we've been working on him scoring off the bounce a little more and finishing at the rim. He can shoot the ball as well as anyone. He doesn't get frustrated if he misses two or three in a row. Our motto is shooters shoot. And he shoots a high percentage as well."
http://www.newenglandrecruitingreport.com/favicon.ico
Chris Morgan, Gloucester (VA) HS
6'6" 210 lb. Wing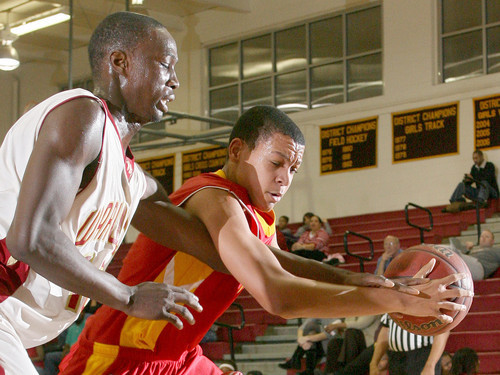 Holy Cross Gets First in 2012
June 13th, 2011
New England Recruiting Report
Holy Cross goes to Virginia for first commitment in class of 2012.

Holy Cross got an early jump on their 2012 recruiting class on Monday when they earned a commitment from Chris Morgan, a skilled six-foot-seven forward from Gloucester High School in Virginia.

Morgan runs with Boo Williams on the AAU circuit and was expected to get a steady dose of mid-major recruitment this summer.

A versatile forward with a well developed skill set facing the basket, Morgan projects as a probable face-up four-man at the next level but also offers the versatility to play as a big wing.

Morgan is the first player to commit to Holy Cross in the class of 2012.


Christopher Morgan - Christopher's beRecruited Sports Profile
Gloucester's Chris Morgan commits to Holy Cross - Inside the PD - dailypress.com
CONGRATULATIONS SENIORS: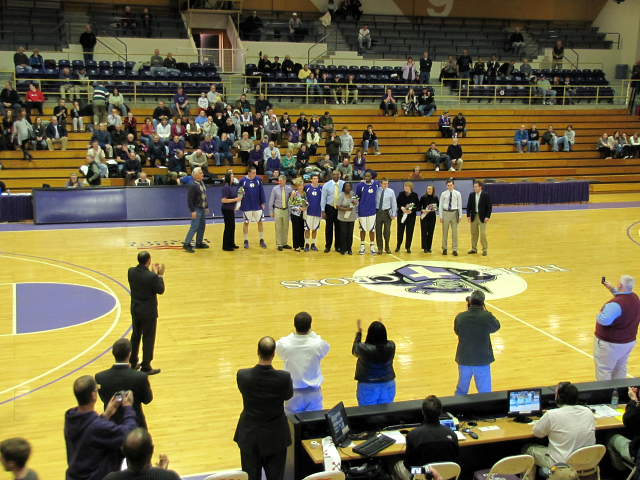 Senior's Recognition 2011 (Sader1970 photo)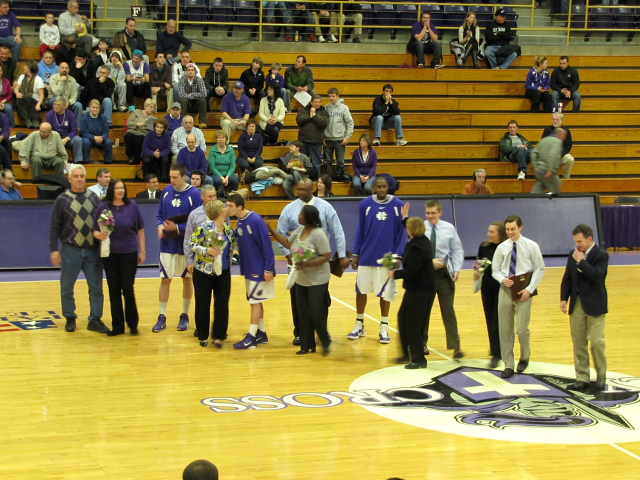 Seniors Recognition 2011 (Sader1970 photo)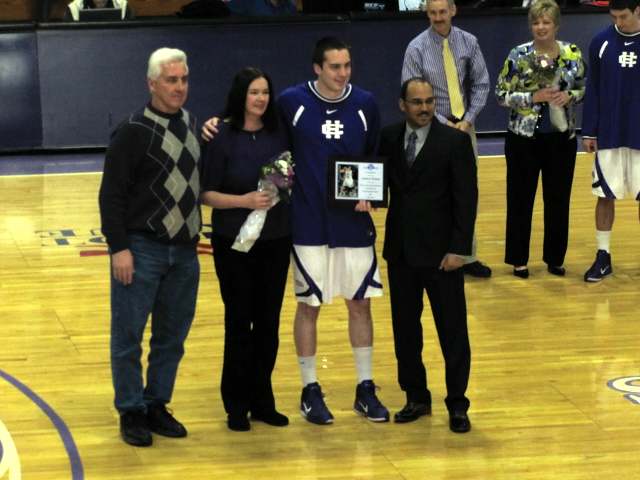 Andrew Keister with coach and Parents 2/27/11 (Sader1970 photo)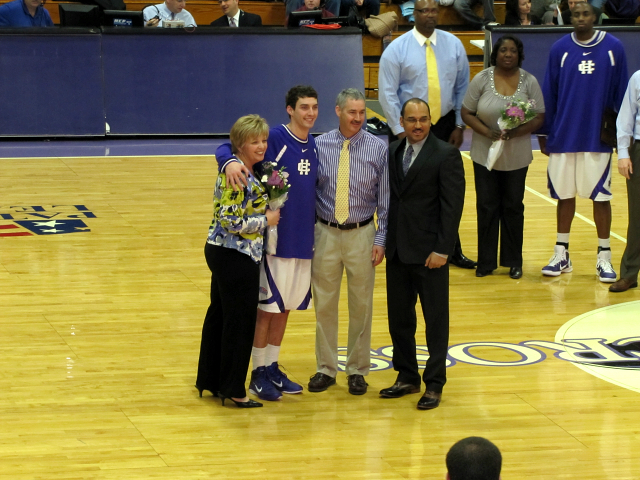 Andrew Beinert with coach and parents 2/27/11 (Sader1970 photo)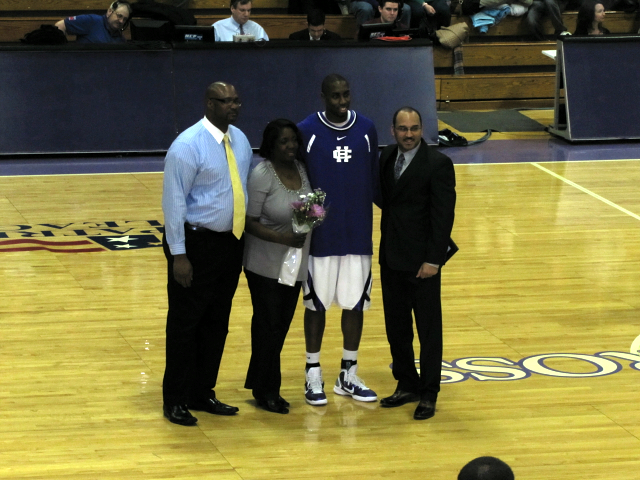 Josh Jones with coach and parents 2/27/11(Sader1970 photo)
Recruits Class of 2015
Taylor Abt, Georgetown Prep HS
6'8" 215 lb. Forward/Center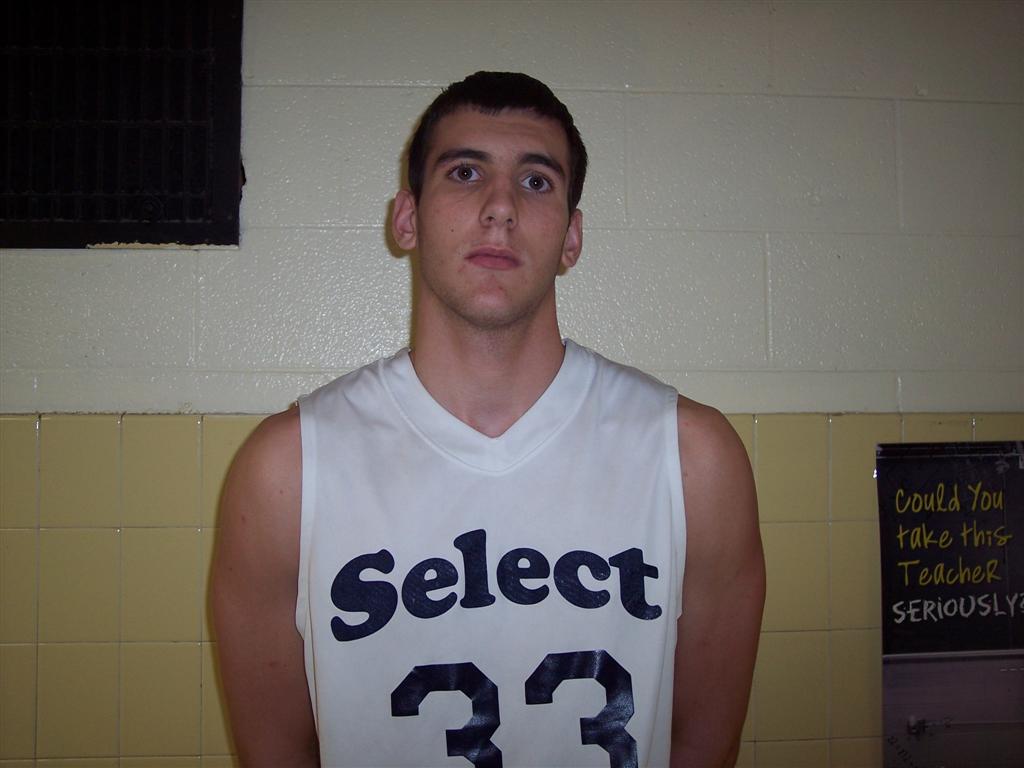 "The College of the Holy Cross landed their third commitment in the class of 2011 on Sunday, gaining a verbal pledge from Taylor Abt, a six-foot-eight power forward from Georgetown Prep in Bethesda, Maryland. Abt committed at the conclusion of his official visit to the Worcester campus.

An athletic and skilled big man, Abt held numerous scholarship offers ranging the MAAC to the Patriot League, Northeast Conference, and Ivy League.

Abt ran with Mid-Atlantic Select on the AAU circuit this year, teaming with another future Crusader in Malcolm Miller who committed to Holy Cross last month. Mid-Atlantic Select was one of several teams who traveled to Quinnipiac University this summer for the Super 16 Showcase. "

Taylor Abt 2011 Basketball Recruiting Profile - ESPN
Selflessness is in Selects' self-interest in second game | NBA News Updates
http://www.gazette.net/favicon.ico
http://projects.washingtonpost.com/favicon.ico
Malcolm Miller, Gaithersburg MD High School
6'6" Forward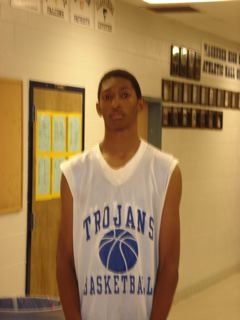 Malcolm Miller, 6'4", 160lb, Class of 2012, Gaithersburg HS (MD) - Could have been the star of the 15 and under championship, hitting an overtime producing, NBA three point range jumper virtually at the buzzer, and also providing a steal and subsequent layup in OT for the Maryland Canes.
Can shoot and defend. His handle is good, but can be better. Of course Miller must get stronger to be the swingman he projects to be.
Gaithersburg's Miller finds Holy grail
NERR - New England Basketball Recruiting Report
TheSportsFanNetwork.com - MoCoSportsFan Exclusive: Gaithersburg's Malcolm Miller to Holy Cross
The Fan Blog: Milan lands first recruit at Holy Cross
Scout.com: Holy Cross Moves On SF
New England related commitments | New England Hoop News
Finkelstein: Holy Cross adds versatile Malcolm Miller - ESPN
From this ESPN Article:
"I think I'm very versatile," Miller said. "I'm a tall guard, I consider myself a three guard."

"I can shoot from the wing. I like to set up my teammates because it's not always about you scoring it's about you winning as a team. "I like to utilize a lot of different angles to execute against my opponent. If I have a bigger guy on me I can take my man off the dribble or go to the post if I have a size mismatch."
Miller, Lewis sign to play college basketball
Malcolm Miller finishes in the paint - Gaithersburg Senior High School
Scout.com: Malcolm Miller Profile
Justin Burrill, Fairfax VA
5'8" Point Guard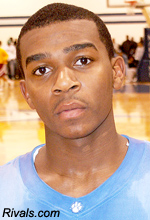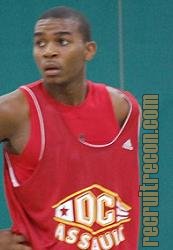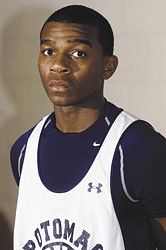 Mount U: BREAKING: Burrell will follow Brown to Holy Cross
Justin Burrell - College Basketball Recruiting 2010 - ESPN
Transfers Help Potomac Find Its Form - washingtonpost.com
Scout.com: Justin Burrell Profile
Justin Burrell - Yahoo! Sports
Burrell is clutch for Potomac's boys basketball team | InsideNova.com
Potomac (Va.) defeats Potomac (Md.), 93-85 - washingtonpost.com
RSS Feed Burrell Sticking with Holy Cross
Fan Photos From
HC's 3/16/07 NCAA game against Southern Illinios at the Nationwide Arena in Columbus Ohio
Photos from Tom Neagle and Dana St. James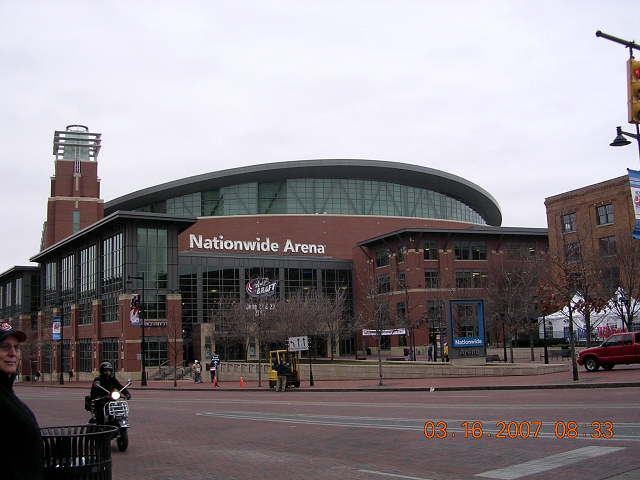 Nationwide Arena, Columbus Ohio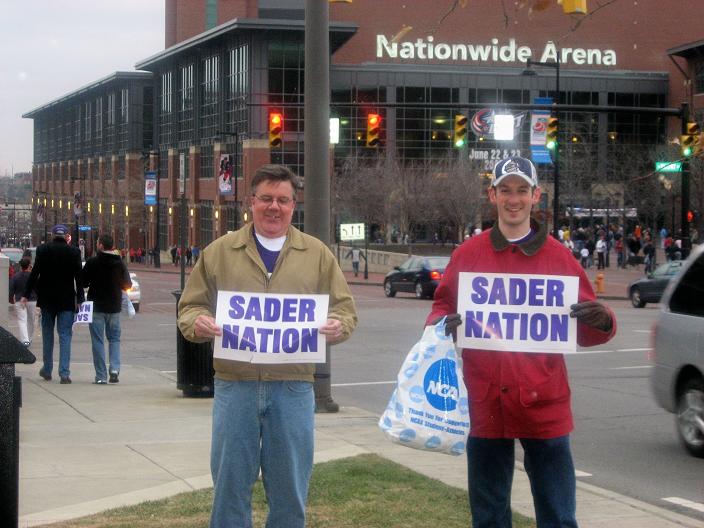 NAD and Jon (who has his official HC NCAA shirt in the bag)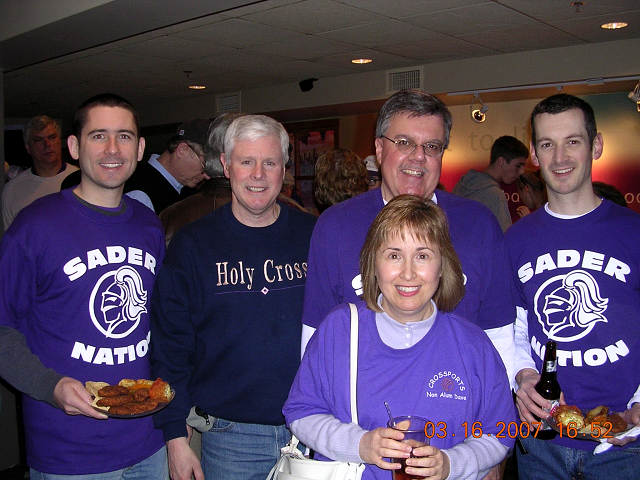 Fans Gather at HC's Pre Game reception at Max & Erma's Restaurant at the Crowned Plaza Hotel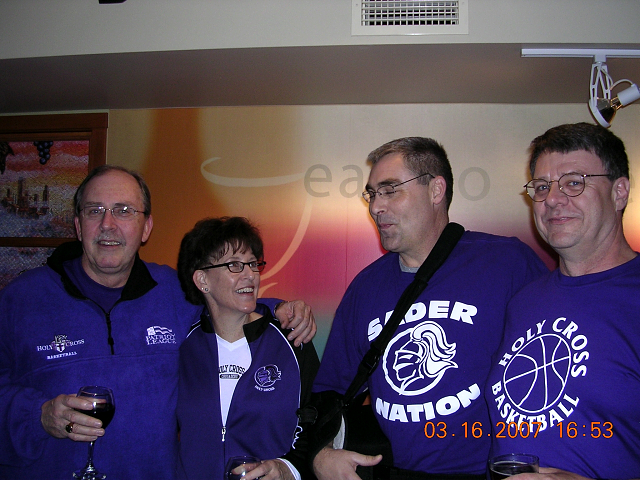 The McCarthy's, Mr. Vander Baan and Mr. Clifford at Max & Erma's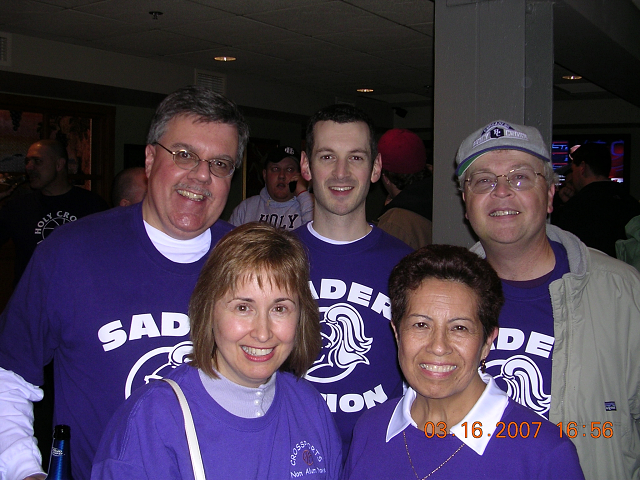 More intrepid fans who journeyed all the way from Nor'easter ravaged Massachusetts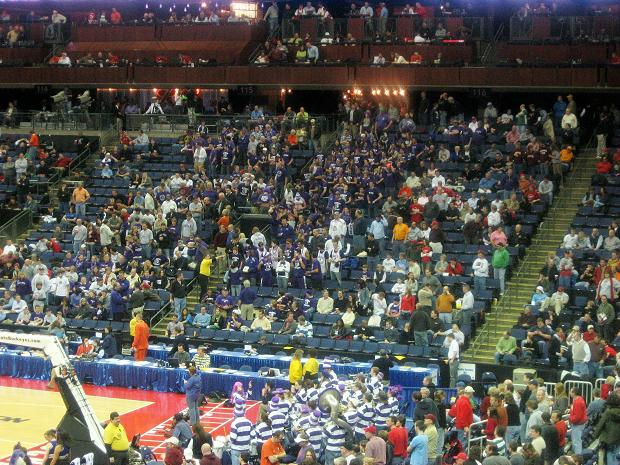 Student Section and Band prepare for tipoff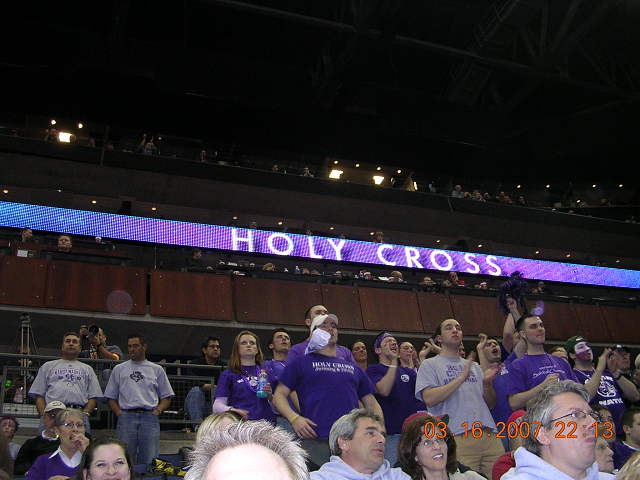 Nationwide Arena lights up for Holy Cross and its fans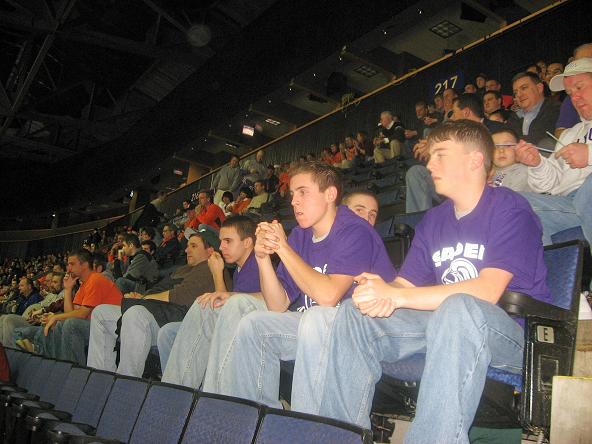 The HC Section in the upper level gradually filled up with purple people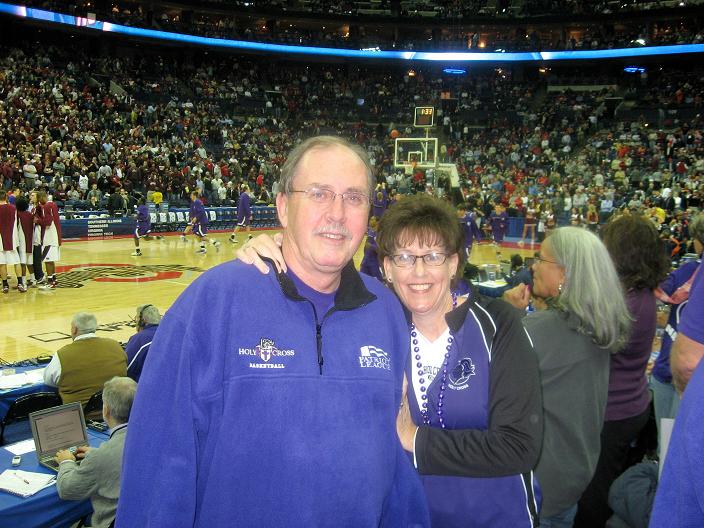 The McCarthy's Courtside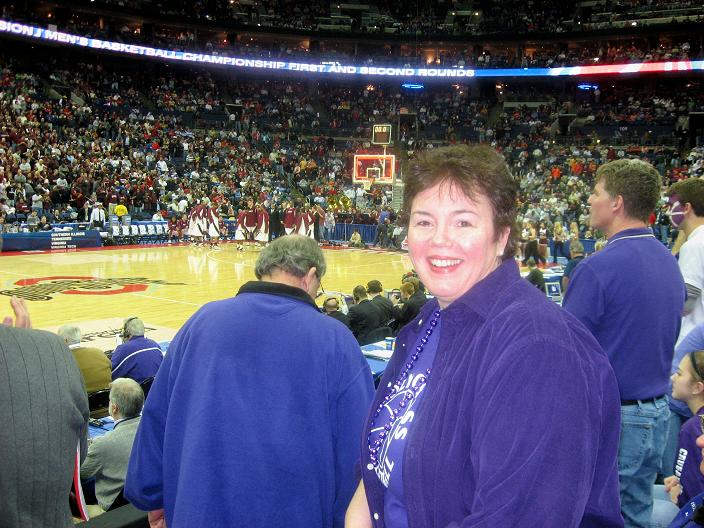 Mrs. Clifford Courtside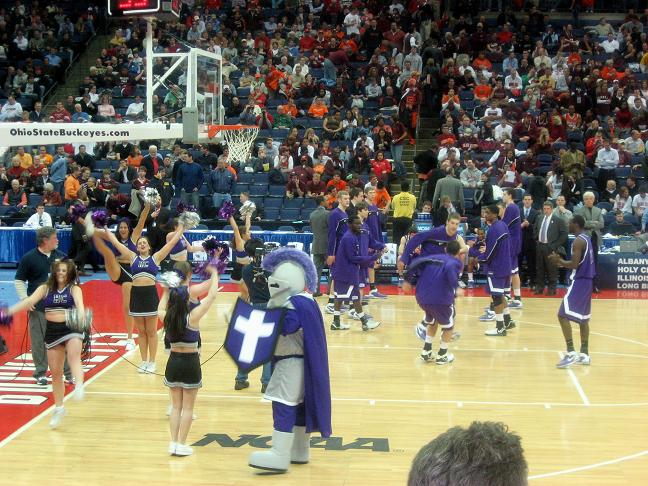 The Starting Line Ups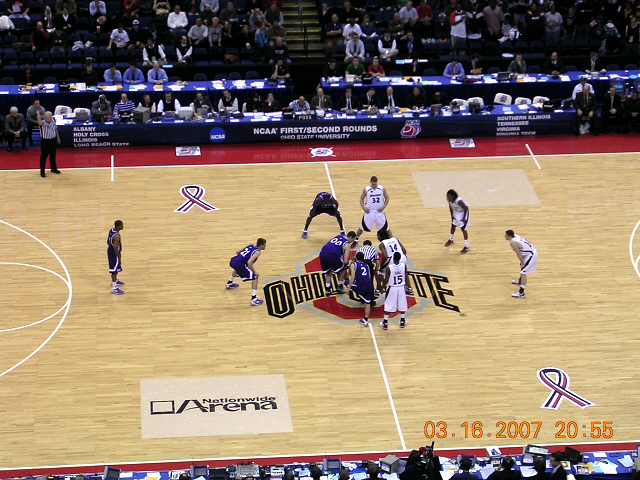 Tip-off, Finally!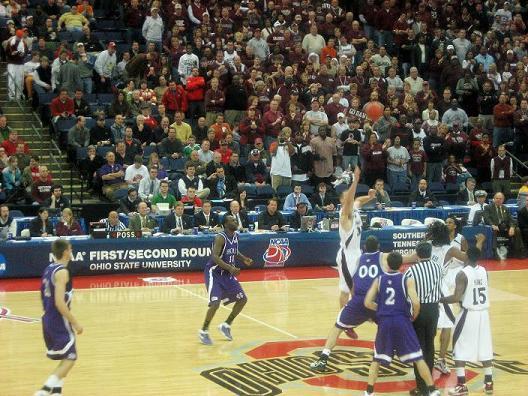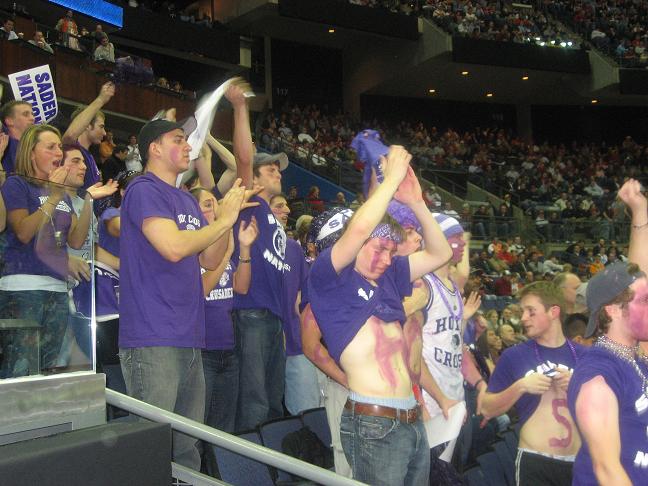 The Student Section. As we left an SIU fan came up to me and said that HC definitely had the best fans in the arena