Greg Kinsey puts one up against Uga Agbai

Chris Napolitano is mobbed by his
teammates after scoring the game's
lone goal.
Congratulations to the Men's Soccer team, the most successful in Crusader History!
After posting a (13-5-1) Record, Winning the Patriot League and making its first appearance in the NCAA Tournament, this year's men's soccer team made us all proud. Thanks for a great season!
CROSSPORTS Needs you!
CROSSPORTS IS run by HC Fans. The more you contribute, the better this site will be. If you have sports information that you would like to share, you can post it on the Message Board or you can email it to me at Crossports@Crossports.com and I will consider it for publication here. So if you have information about a non-revenue sport, recruits, players, photos, game reports, etc. please send it in. If you are creative and want to send in art work (Your version of the Crusader or how about battling mascots -- with HC winning of course). How about an editorial? Your help is appreciated. GO CROSS!
Features:
12 Essential Questions: Interview with Ralph Willard
12 Essential Questions: Interview with Dick Regan
Want to write for CROSSPORTS? Got an interesting article, photo or letter you would like to see here? Submit it to CROSSPORTS@CROSSPORTS.com
Fan Photos: Check out LINK to see 2000 Lehigh-HC photos sent in by a reader.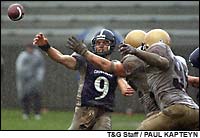 HBrian Hall lets go of a pass before getting hit by Lehigh's Mike Gregorek and Tristan Lawrence. Action took place at fitton Field during Family Day 10/26/02 (From Worcester T&G)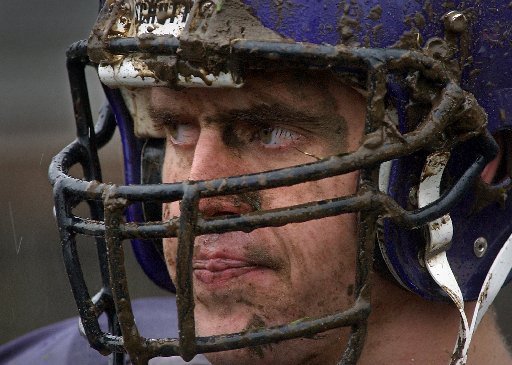 Paul Kapteyn (Worcester Telegram) took this photo of HC's Nicholas Nelthorpe during Lehigh game. This photo made November 4th Issue of Sports Illustrated.